SYRACUSE — Average viewers might not have ever heard of Bill Eadie, but he had plenty of notable achievements during his 34-year career in Syracuse television.  We're sorry to share the news that Eadie passed away on Thursday at the age of 79.
Tim Fox of NewsChannel 9 (WSYR-TV) said Eadie started his career at channel 3 (WSTM-TV, but it was WSYR-TV back then) in the 1950s.  He was part of the NBC affiliate's studio crew and often sang on the "Jim Deline Gang" show.  Fox tells CNYTVNews.com that Eadie "considered a career as an opera singer, but had to work to support his family," so he stayed in local TV.
When channel 9 came along in 1962, Eadie helped launch the ABC affiliate.  "You can't overstate Billy's impact on our station," said Fox.  Once the station was up and running, Eadie stayed on board as studio crew chief until retiring in 1997.  But he did much more: Fox said Eadie was also the very first president of the National Association of Broadcast Engineers and Technicians (NABET) union local #211.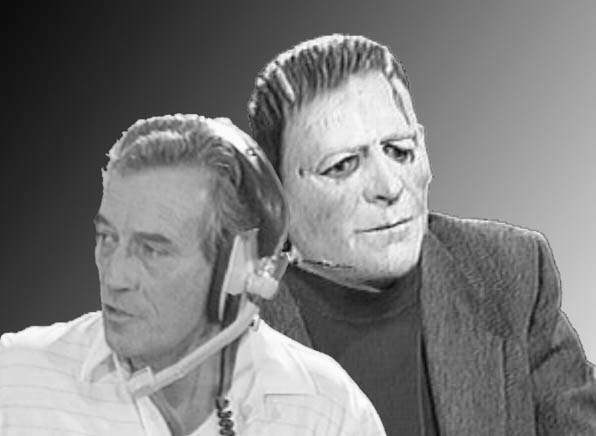 Fox says Eadie was also "part of the creative team that made 'Baron Daemon' a local phenomenom."  For the late night movie programs which featured Mike Price in the titular role, Eadie often appeared "in bit parts … and put a mask on to portray 'Boris, the world's shortest monster.'"
Eadie also played a major role in one of Syracuse's biggest traditions.  Fox tells CNYTVNews.com, Eadie "was extremely proud of his Celtic background and was one of Nancy Duffy's earliest advisors on the Syracuse St. Patrick's Parade… and came up with one year's theme celebrating the Irish flag, 'Orange and Green and Peace In-between.'"  Even though Eadie was Scottish, not Irish, Fox said "he loved the parade and was stage manager for many of our first broadcasts."
Fox also recalled one time when Eadie gave legendary boxer Sugar Ray Leonard "a playful jab to the chin."  Here's his account:
The champ was in town for his 1981 fight at the Dome… and agreed to do an interview with Karin Franklin for "Open Line" at his hotel.  Billy was pinning the mic on Ray, then attempted to give him a little chuck on the chin, a fake-out right hook.  But he went a little too far and caught Ray on the chin.  Leonard's eyes went wide and he said "You HIT ME!!!"  Neither one of them could believe it.
According to his obituary, Eadie, a veteran of the U.S. Air Force, is survived by his wife, six children, 12 grandchildren, two great-grandchildren and a sister.  Calling hours will be held Sunday from 2-5pm at Hollis Funeral Home, 1105 West Genesee Street, Syracuse.  Funeral services will begin Monday at 8:30am at Hollis Funeral Home, with a mass to follow at 9:30am at the Basilica of the Sacred Heart, 927 Park Avenue in Syracuse.  Burial will follow at Veterans Memorial Cemetery.
CNYTVNews.com extends our condolences to Eadie's family, friends and colleagues.
Photo credit: WSYR-TV